Swing Jazz in the Black Community
Swing jazz refers to a type of jazz that usually features a big band, smoother beats, and less complex rhythms and harmonies than in traditional jazz. In swing jazz, eighth notes are played like triplets to create a galloping sound. The "swing period," lasted from 1930 to 1945 and is known as the dancing movement of the period. Louis Armstrong was instrumental in the creation of swing music. Along with artists like Duke Ellington and Billie Holiday, who were both known for their swing styles. After the introduction of the genre, swing jazz was the most popular type of jazz played until the 1970's. Swing jazz was played by both black and white musicians. However, the role of swing jazz during a time of economic depression and racial turmoil in the black community was one of hope and happiness.
Swing originates from New Orleans jazz and bebop rhythms. Swing developed during the Harlem Renaissance of the 1920's. The creation of art and music during the time period led to the creation of swing jazz. Jazz musicians moving to New York from New Orleans in large numbers. And new dances were being made to accompany these new tracks. Dances such as the Lindy Hop, which helped fuel the popularity of swing. It is hard to pinpoint the exact start date of swing, but in 1932, Duke Ellington released the song, "It Don't Mean A Thing (If It Ain't Got That Swing)."
Swing in the Black Community
The Swing Period is said to have started around 1929-1935, amidst the Great Depression in America. Those who tell stories of the depression recall that when swing jazz came on, you just got up and danced. The Great Depression was a time in America of economic grief and food insecurity. These effects, along with racism, doubled in the black community. However, the rise of swing jazz brought the rise of representation in music along with gatherings of black people celebrating and dancing.
Artists like Duke Ellington, Cab Calloway, and Jimmie Lucenford were all gaining popularity within the genre. Duke Ellington's combination of big band and swing jazz made his music very popular. Cab Calloway was best known not only for his music, but also his dancing. Videos today show him singing his songs while also showing the dance moves popularized by swing music. While black artists were gaining popularity and representation in the industry, swing jazz was still dominated by white musicians. Likewise, white musicians profited off of music created by black musicians. Benny Goodman, who is dubbed "The King of Swing," gained popularity from songs composed by black musicians. 
Despite racism and division in swing jazz, the music still had positive effects in the black community. During the period, women began to dance dances that were originally only performed by white women or the opposite gender. Female icons such as Ella Fitzgerald's fame was on the rise and would create new expectations and opportunities for women. For the first time in history, there were all women bands, showing that women had the same capabilities in playing and performing. Swing also led to integration between white and blacks. Swing dance gatherings were some of the only places where whites and blacks would enter without being segregated and dance together. Popular clubs would hire black dancers to perform and black musicians to play swing music. African Americans were being taken seriously, which only fueled the fight for equality.
The swing period took place during a hard time in America. Following the Roaring 20s, which assisted in the development of swing, the Great Depression brought economic struggles along with the already present struggles of oppression to the African American community. Swing jazz assisted the community in finding places to congregate together and have fun. Although the swing period was not all fun and games in the industry. And racism existed within the music industry, as many white musicians gained popularity from black songs. The period has points of prosperity and social progress. Women were seen in a new light in the music industry and African American musicians were starting to get the recognition that they deserved.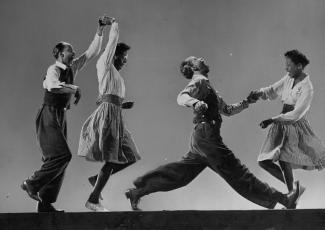 https://swingandjazz.weebly.com/social-effect.html
https://www.aotontario.org/post/the-swing-era-a-time-of-hidden-beauty-and-limited-oppression

https://livinghistoryfarm.org/farminginthe30s/life_17.html#:~:text=According%20to%20many%20who%20lived,Benny%20Goodman%2C%20and%20Tommy%20Dorsey.

https://www.jazzhistorytree.com/swing/