Eazy-E was the best notorious character in gangsta rap, whether as a member of N.W.A, a solo artist, or a label boss. While his technical talents as a rapper were never the best, his unusual delivery (sometimes characterized as a high-pitched whine), outrageous lyrics, and obvious charm catapulted him to success.

Eazy-E was the stage name of American rapper Eric Lynn Wright, who was born on September 7, 1964 and passed away on March 26, 1995. He was instrumental in the development of West Coast rap and gangsta rap as the leader of the group N.W.A and the company Ruthless Records. People called him The Godfather of Gangsta Rap.

Eazy-E, who was raised  in Compton, California, failed to graduate from high school and made a living off of dealing narcotics. Compton was actually a rather typical instance of the urban hazard that was cultured out of gangs, crack cocaine, Police brutality, and the deconstruction of practically every effort to fight the "War on Poverty." Compton was the city of War.  
The label Ruthless Records was founded and named by Eazy E. The label was used to release music by N.W.A., the legendary Compton rap group Eazy-E put together, which featured Arabian Prince, Dr. Dre, DJ Yella, Ice Cube, and, after Arabian Prince's departure in 1988, MC Ren. Eazy-E funded the band's studio time with his own money and led the marketing effort for the record company.
N.W.A abbreviation for N**** Wit Attitudes
American hip hop group whose members were among the earliest and most significant popularizers and controversial figures of the gangsta rap subgenre. The group is widely regarded as one of the greatest and most influential groups in the history of hip hop music. N.W.A. was an American hip hop group whose members were among the earliest and most significant popularizers.The rap group was active from 1987 to 1991, and throughout that time it was mired in controversy due to the aggressive lyrics of its music, which many people believed to be sexist, as well as the group's celebration of drugs and criminality
As a direct consequence of this decision, the band was barred from performing on numerous prominent American radio stations. Despite this, the band has managed to rake in more than 10 million dollars' worth of sales in the United States alone. The band created music that was intrinsically political, drawing on the personal experiences of its members with issues such as racism and excessive police force. The members of the organization were notorious for their intense loathing of the legal system, which has resulted in a great deal of controversy during the course of their existence.
N.W.A And the Posse was the debut studio album published by NWA; it was issued on November 6, 1987, and it had a total of 11 tracks. The album reached its highest position on the Top R&B/Hip-Hop Albums list of Billboard magazine at #39. Over 700,000 copies of the album have been sold, which earned it a gold certification from the RIAA in April of 1994.
The song "Boyz n the Hood" by Eazy E was played as the album's opening track. This song is about living in the ghetto in Compton, California, which is where N.W.A. originates from and where the lyrics are set. It's Eazy-E rapping about a day in the life of a gangster, and it describes what they do. This song was released before N.W.A. When Ice Cube (O'Shea Jackson) first approached Eazy-E with the song that he had written, he was just 17 years old. In 1987, Eazy released the song as a solo single after having previously recorded it. When Eazy E's version of the song debuted at #50 on the US Hot 100 in 2015, it became his third Hot 100 success.
At the time he recorded this song, Eazy-E had a far stronger track record of success as a businessman than he had as a rapper. His strength was in hustling, which not only provided him with the street cred necessary to perform this song but also gave him the flow. When Eazy's solo single of this song began selling in the suburbs of Los Angeles, he decided to put together N.W.A. so that he would have some assistance when it came to performing. His ability to rhyme has unquestionably grown, but at the time, Dr. Dre and Ice Cube were far more skilled as MCs and showmen, and they built a reliable crew for Eazy to collaborate with.
The 1991 film Boyz n the Hood, starring Ice Cube as Doughboy, a street-savvy adolescent who has previously spent time in prison, was inspired by this song.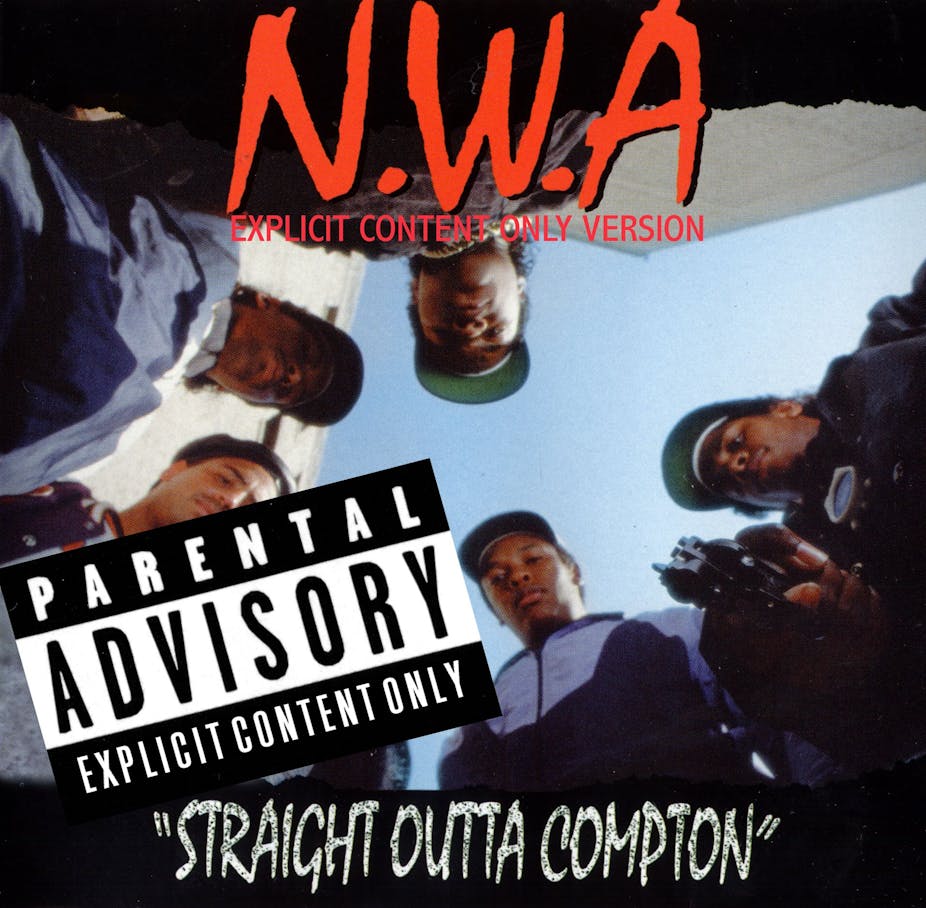 Straight Outta Compton is, in some respects, the prototypical rap album; it is the recording that you would put on a rocket and launch into space if you wanted to start a galactic war. It takes the coolness of It Takes a Nation of Millions and combines it with the paranoia of The Chronic, all while keeping the old-school, Run-DMC-style humor that the song is known for. Even today, the opening squall of "Straight Outta Compton," "F*** tha Police," and "Gangsta Gangsta" is just as combative and devastating as it was at the beginning of the 1990s.

The song that Sparked War
The story starts out with members of the group giving their testimony in front of the judge presiding over the case, which is Dr. Dre. The case is N.W.A. vs the Police Department. By acting in this manner, the rap group is making a joke on the procedure of the legal system. Only praising respect for the position of the witness as a chance for MCs to speak up and demonstrate how racial stereotyping may be detected in rap lyrics. When the band NWA was scheduled to perform at the Joe Louis Arena in Detroit, the band's relationship with the local police was already at a boiling point.
The band had recently published their anti-police anthem titled "F*** tha Police," and the controversy that surrounded the song was escalating by the day. Because the local authorities believed that playing the song might spark a riot, they forbade its performance in the city of Detroit. Even though they were told they couldn't play the song, N.W.A. went ahead and did it anyway. One thing is certain: they will never give in to such demands. The venue was shut down and the group was detained as soon as they returned to the hotel after what appeared to be the sound of a gunshot but was actually a firecracker going off in the audience caused the authorities to take action. The crowd was bouncing and swelling with a strong intensity.

The Song sparked War or Spread Awareness?
"It's a pivotal moment because it's one of the many moments where they stood up, and they had the courage to say, 'Freedom of speech applies to everyone in America, and we are not going to take this abuse," the film's director, F. Gary Gray, said in an interview with BuzzFeed. It was a tremendous moment that, naturally, mobilized not only N.W.A.'s followers but masses of the young generation who, now that they didn't have to witness the cruelty in order to empathize with it, who now didn't have to watch the brutality in order to feel it. Can a riot be put an end to without violence? and is it possible for a riot to spread love and connection? It appears that way. "F*** Tha Police" was the first song ever to call into question the censorship of mainstream music and the liberties guaranteed by the first amendment.
It was the first ever rap album to be admitted into the Grammy Hall of Fame in the year 2016, when the ceremony took place. Straight Outta Compton was inducted into the National Recording Registry by the Library of Congress the following year, after it was found to be "culturally, historically, or aesthetically important" by those responsible for the decision.
Straight from the source Compton changed the course of hip hop by making poetry about the gangster lifestyle the driving force in sales numbers. It has sold over 3,500,000 copies, making it the best-selling album by N.W.A. The album opened at number two on the Billboard 200 in the United States, selling 295,000 album-equivalent units in its first week. Compton garnered positive feedback from music reviewers at its initial release.
With a total rank score of 126, Eazy-Duz-It is considered to be Eazy E's album. This album is now positioned at number 9,309 on the all-time greatest album ranking. With a total rank score of 164, Eazy-E now holds the position of number 4,811 in the overall artists rankings.

Resulting in the release of two songs, "Real Muthaphuckkin G's" and "Any Last Werdz." On the Billboard Hot 100, "Real Muthaphuckkin G's" reached its greatest position at number 42, making it Eazy's most successful hit to date. In addition, it reached number two on the chart for Hot Rap Tracks and number 21 on the chart for Hot Dance Singles Sales.
Ice Cube and Jerry Heller, the group's manager, had been having an ongoing disagreement about the additional royalties that Ice Cube believed he was entitled to receive as a result of the fact that he was believed to have written the majority of Straight Outta Compton and a significant portion of Eazy E's 1988 solo album Eazy-Duz-It.

As a direct consequence of this, he was the target of a number of rather potent diss tracks; nonetheless, he was not the kind to take it lying down and avoid giving a reply. Instead, he criticized the entire group on the famed 'No Vaseline' song.
By the time that Efil4zaggin was released, Dr. Dre's relationship with Ruthless Records had deteriorated to the point that he was unhappy with it. Early in 1992, he and The D.O.C. decided to leave N.W.A. as well as Ruthless Records and sign with Death Row Records, officially putting an end to the group's career.
Ice Cube Diss track to N.W.A/ Ruthless Records 
"Fuck Wit Dre Day (And Everybody's Celebratin')" is a song by American rapper and record producer Dr. Dre featuring fellow American rapper Snoop Doggy Dogg. It was released in May 1993 as the second single from Dre's debut solo album, The Chronic, and was titled "Dre Day" when it was released as a single. "Dre Day" was a diss single that was aimed mostly towards Dre's former groupmate Eazy-E. Dre and Snoop disparage and taunt Eazy in the song "Dre Day" and in the music video for the song, in which they accuse Eazy of defrauding N.W.A's artists.
After DR. Dre released his diss track Eazy E responded.
"Stomping hard On the EAZY-EST streets 
"The same records your making is paying me MotherF**** Dre!
On the other hand, Eazy would win this battle in the end. A few months before The Chronic was released, the boss of Ruthless Records filed a lawsuit against Dre, Suge, and other individuals, accusing them of conspiring to "use force and threats to break recording contracts with Ruthless." The lawsuit was filed against Dre, Suge, and The D.O.C., among other individuals. Interscope Songs, the parent company of Death Row Records, reached a settlement with Eazy in which it agreed to pay Ruthless Records 10 percent of Dre's production earnings and 15 percent of the sales from his solo records, in addition to a cash payoff. "Eazy was receiving like 25 or 50 cents a copy for Dre's Chronic album," a record promoter named Doug Young stated in an interview with Savidge, S. Leigh for the book Welcome To Death Row: The Uncensored Oral History of Death Row, which was published in 2015 and written by Savidge, S. Leigh. As of November 3, 1993, the album had already achieved the rank of triple platinum, which meant that Eazy may have received up to $1.5 million from its sales. It is, in fact, Eazy's pay day.
Dr. Dre and Ice Cube discussed Straight Outta Compton with The Hollywood Reporter. The rappers discussed their rocky relationship with late N.W. in their honest interview. Eazy-E. "I met him a few months before he died and we spoke about getting back together. "If you can convince Dre to do it, I'm ready," I said.
"We would definitely be working together right now," Dr. Dre told The Hollywood Reporter. As before, we would argue about the task. "Every project, we had some tiny disagreement over what the project should be creatively, and I would say we would definitely still be doing that, but at the same time getting the work done and maybe accomplishing something spectacular."
In February of 1995, Eazy-E went to the Cedars-Sinai Medical Center in Los Angeles suffering of a "violent cough." He was eventually given a diagnosis of HIV/AIDS at that facility. He was only 30 years old when he passed away on March 26, 1995.

Each photo has a link to all the best known/Hit Songs of Eazy E
LAs a record label CEO, Eazy laid the groundwork for future young Black businesses. As a member of N.W.A. and label owner, he helped give voice to the plight of innumerable Black (and Brown) youngsters in Los Angeles, California (and across the country).
N.W.A influenced hip hop by bringing the political and social concerns of California's Black youth to the forefront, coining the term "gangsta rap."

Eazy E. Eazy Duz it, Ruthless Records, 1988
Eazy E/N.W.A, Straight Outta Compton, 1988
Eazy E/ N.W.A ,F*** Tha Police, 1988
Eazy E/ N.W.A , Gangsta Gangsta ,1988
Eazy E, Nobody Move, Ruthless Records, 1988
Eazy E, No more?'s, Ruthless Records, 1988
Eazy E, We Want Eazy, Ruthless Records,1989
Eazy E/N.W.A, Boyz N The Hood, Ruthless Records, 1989
Eazy E, Eazy Street, Ruthless Records, 1990
Eazy E, Any Last Werdz, Ruthless Records, 1994
Eazy E, Real Muthaphuckkin G's, Ruthless Records, 1993
Eazy E, Its on, Ruthless Records 1993
Eazy E, Eternal E, Ruthless Records ,1995
Eazy E, Nutz on ya Chin, Ruthless Records, 1996
Hip-Hop & Politics › "Fuck Tha Police", N.W.A, https://wordpress.clarku.edu/musc210-hhp/hip-hop-culture-politics-exploring-the-narrative-and-power-of-rap-lyrics/fuck-tha-police-n-w-a/. Accessed 27 November 2022.

Behrens, Zach, and Rachel Becker. "Is N.W.A.'s 'Straight Outta Compton' an Accurate Historical Social Commentary of that City?" KCET, 20 January 2011, https://www.kcet.org/socal-focus/is-n-w-a-s-straight-outta-compton-an-accurate-historical-social-commentary-of-that-city. Accessed 25 November 2022.
"Boyz-n-the Hood by N.W.A." Songfacts, https://www.songfacts.com/facts/nwa/boyz-n-the-hood. Accessed 28 November 2022.
"Celebrating Eazy-E: How Eazy-E Influenced Hip Hop." 93.5 KDAY, 26 March 2019, https://www.935kday.com/2019/03/26/celebrating-eazy-e-how-eazy-e-influenced-hip-hop/. Accessed 29 November 2022.
Chang, Max, and Michelle De Pacina. "How a 22-Year-Old 'Straight Outta Compton' Built a $10 Million a Month Startup." NextShark, 20 April 2022, https://nextshark.com/compton-eazy-e-ruthless-records-nwa/. Accessed 25 November 2022.
"Eazy-E." Best Ever Albums, https://www.besteveralbums.com/thechart.php?b=4281. Accessed 28 November 2022.
"Eazy-E Made Money Off Dr. Dre's 'The Chronic.'" Beats, Rhymes & Lists, https://beats-rhymes-lists.com/facts/eazy-e-made-money-off-dr-dre-the-chronic/. Accessed 29 November 2022.
Henderson, Marcus. "N.W.A helped set the stage for modern hip hop music." San Quentin News, 13 February 2020, https://sanquentinnews.com/n-w-a-helped-set-the-stage-for-modern-hip-hop-music/. Accessed 29 November 2022.
Howard, Annie. "Dr. Dre and Ice Cube Break Silence on Eazy-E." The Hollywood Reporter, 23 July 2015, https://www.hollywoodreporter.com/movies/movie-news/dr-dre-ice-cube-break-810483/. Accessed 29 November 2022.
Kautz, Justin. "Ruthless Records | American record label | Britannica." Encyclopedia Britannica, https://www.britannica.com/topic/Ruthless-Records. Accessed 29 November 2022.
"N.W.A." Wikipedia, https://en.wikipedia.org/wiki/N.W.A. Accessed 25 November 2022.
"N.W.A. and the Posse | Hip Hop Wiki | Fandom." Hip Hop Wiki, https://hip-hop-music.fandom.com/wiki/N.W.A._and_the_Posse. Accessed 28 November 2022.
"NWA Vs. Ice Cube: Rap Beef – 23 Of The Biggest Hip-Hop Feuds Of All Time." Capital XTRA, https://www.capitalxtra.com/features/lists/hip-hop-rap-feuds/ice-cube-nwa/. Accessed 29 November 2022.
"Straight Outta Compton | Hip Hop Wiki | Fandom." Hip Hop Wiki, https://hip-hop-music.fandom.com/wiki/Straight_Outta_Compton. Accessed 28 November 2022.
Suzuki, Ray. "N.W.A.: Straight Outta Compton / Efil4zaggin Album Review." Pitchfork, 2 October 2003, https://pitchfork.com/reviews/albums/11791-straight-outta-compton-efil4zaggin/. Accessed 28 November 2022.
Whatley, Jack. "When an N.W.A. show ended in a riot." Hip Hop, 23 October 2021, https://hiphophero.com/when-an-n-w-a-show-ended-in-a-riot/. Accessed 27 November 2022.